"Everyone, the theme of our activity today is "Red care, blue dream and green protection" , and who can tell us what does it mean?"
"Red refers to love, which explains red care."
"Green refers to us, which explains green protection. "
"But I have no idea about blue."
"You're right. And blue indicates TSNP. Because CGN takes "Natural Energy, Powering Nature" as slogan and indeed endeavors to achieve the beautiful Chinese dream with bluer sky and clearer water. These three colors stand for the tie between you and me because of love."
On May 7th 2017, the party branch of TSNP Safety Protection Department organized 31 teachers and students from Chixi Center School to carry out the opening of voluntary tutorial activity and visit to TSNP.
At 9:00 am, it did not rain as anticipated. Dozens of teachers and students led by the volunteers arrived at the foot of hill, on which there is 108-meter view platform. Eyes are filled with green, and steps carried on. The will to climb remained although the sweat was all over the body. Seeing the whole view of Taishan project on the platform, the teachers and students were amazed at such a grand project. Afterwards, the volunteers lectured to the teachers and students about the names and roles of main buildings, leading the kids who took their first step in nuclear power to the ocean of nuclear power knowledge.
Climbing to 108-meter view platform
Students on 108-meter view platform, attracted by the nuclear power plant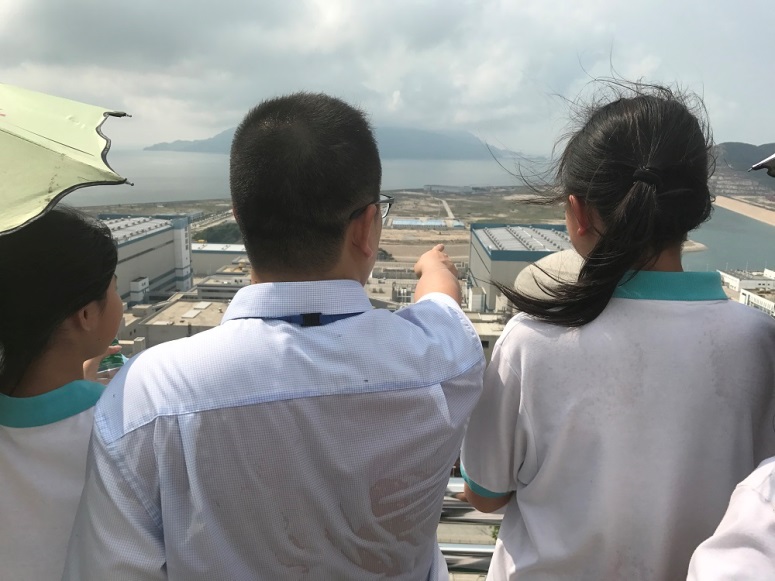 Lectured by the volunteer
Group photo on 108-meter view platform
Later they arrived at the second spot of this journey—the Firefighting Station. Under the guidance of the firemen, teachers and students visited firefighting truck and its internal equipment. "This one is only for rescuing people. That one is only for putting out fire. That one is only for unlocking….." All these fresh and special materials made them all the more excited and enthusiastic. And then the firemen demonstrated how to use firefighting lance and dry powder extinguisher and let the students try by themselves. Although the students felt a bit uneasy when they tried these equipment for the first time, they couldn't help being curious and excited.
Lecture on professional equipment by fireman
A student couldn't help feeling excited when given a chance to have practical operation
After visiting the Firefighting Station, they went to the exhibition hall of 01 building. Students were surprised at all kinds of models and theories of the equipment, the history of TSNP and fuel pellet sample introduced by the guide. Observation with eyes and listening to the introduction seemed not enough for the students. Several teachers lent phones to the students (students were forbidden taking phones inside) to fulfill their wish of taking group photos.
"In this visit to TSNP, I have realized several "first time". I saw the ocean with my own eyes for the first time. I saw the nuclear power plant in such a short distance for the first time. I tried the firefighting lance for the first time...…TSNP gave me a chance to see a bigger world and had a taste of different nuclear power." a student said excitedly with smile.
At the end of the visit, the opening of voluntary tutorial activity was convened at Room Marseilles. Yang Lin, secretary of the party branch delivered encouraging message to the students. He wished them excellent performance in the incoming high school entrance examination and hoped they will seize the chance to work in TSNP for contribution to the development of their hometown. The accompanied teachers expressed gratitude and support to this activity and stimulated the students to make full use of the opportunity of voluntary tutorial activity for improvement.

On the way to take the bus for departure, the accompanied volunteer heard a lot of little chat like "How I wish I could come here next time." He smiled and said in his heart "Come on, the day will come."