The Dragon Boat Festival, also known as the Duanyang Festival or Longzhou Festival, is one of the four traditional festivals in China, with many customs such as eating Zongzi, dragon boat racing, hanging wormwood, drinking realgar wine, wearing perfume pouches and so on, which vary from region to region. Nevertheless, on every festival, the way to celebrate is to have a good meal. Combing with the local characteristics, TSNP offered a series of service to wish employees to enjoy the delicious Zongzi and happy gathering.
    No Dragon Boat Festival Without Zongzi
    Before the Dragon Boat Festival, in order to satisfy the most basic festival ritual, the logistic food supply team conducted the annual activity which was to bring women cooks together to make Zongzi. Seven local women cooks made Taishan Zongzi with a filling of fresh meat and salted egg yolk as well as the original glutinous rice Zongzi. They skillfully put the new leaves inside and the old leaves outside, then wrapped the good-quality glutinous rice that had been soaked overnight after washing, peeled mung beans, marinated fresh pork and salted egg yolks, and lastly pressed it firmly and tied it tightly.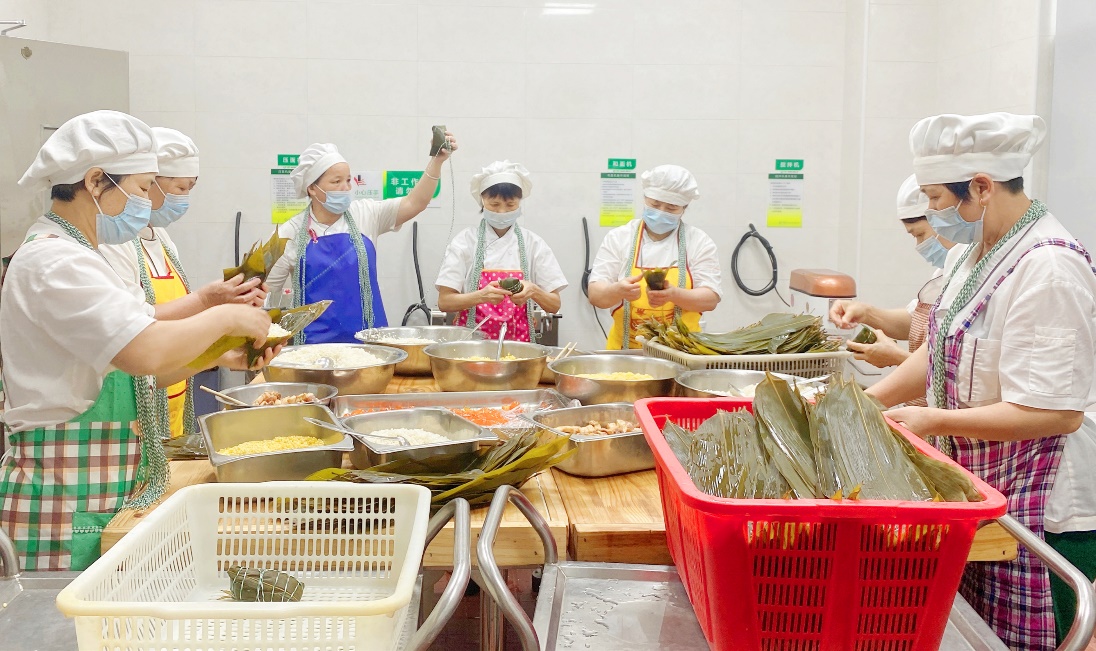 After Zongzi was cooked, it smelt fragrant and was soft with a bite, which was sold in the staff restaurant from June 2nd. It was convenient to take home and share with family.
    Serve Up and Get Together
    On June 2nd, during the lunch time, "10 new faces" showed up in the marinated cooked food area of 01 Canteen. They were seven ready-to-cook homely dishes and three ready-to-eat box dishes carefully prepared by the canteen.
    Although it sounded simple, a closer look could find full consideration. The combination of soup, fried dishes and marinated cooked food was suitable for the whole family to share a table of delicacies easily. After the selected fresh ingredients were washed, cut and separated in meat and vegetable, not only the meat had finished curing, but also the cooking method was attached on the container. Besides, a seasoning box was provided according to the needs of dishes.
No wonder some employees murmur: "That's great. I'm ready to do some cooking. It'll be ready in half an hour, conservatively. Even for a stew, it won't be more than one hour."
    Holiday with Love
    With the passage of time and the impact of pandemic, we now cherish every gathering and reunion much more. "Although the face gets old, luckily, the breeze is here and the gathering is not reduced."
    In fact, every festival is prepared for the people who love us and the people we love. The most important thing is being with each other.