"In this year's Enterprise Culture Week, it's interesting to search for "safety wishes". I not only made a new friend but made my wish come true. I'm so happy."
"This year's Enterprise Culture Week had lots of activities such as nuclear safety culture skills competition, talk with craftsman, movie watching, football games and shooting of "23", I almost joined all the activities as instructed. I feel I become stronger than ever."
……
On Sept.30th, a week of Enterprise Culture Week activities in 2017 came to an end. It was jointly hosted by Administrative Department, Party Department and Youth League committee of TNPJVC. Employees from different departments took part in the activities.
Activity 1: "Safety Wishes Actions" — "Keep Safety, We Act"
147 wishes were collected with 200 safety wishes test tubes, 8 treasure hidden spots, 95 practicable wishes and 85 people made their wishes come true. Here are the figures that truly recorded the activities. From the collection of safety wishes to search for treasure, realization of safety wishes and demonstration, momentum sustained the whole week of "Safety Wishes Actions". All started from sharing of safety wishes realization in "You know all" WeChat group since Sept.26th to the increasing attention paid by employees to safety wishes till the end of activities on Sept.30th. Sound safety culture atmosphere grew out of the activities.
Activity 2:"Craftsman" Team Sharing Activity — "Keep Safety, We Act"
On the afternoon of September 26th, 16 craftsmen from CGN fleets presented a "craftsman" sharing storm to TNPJVC. They stayed firm at the front line with excellence-oriented "craftsman spirit" stuck in mind to make incredible achievements. During the Orange Week, they shared experience and idea to deliver the spirit of craftsman and carry forward craftsman culture.
Activity 3: Watching a Movie about Safety — "Keep Safety, We Act"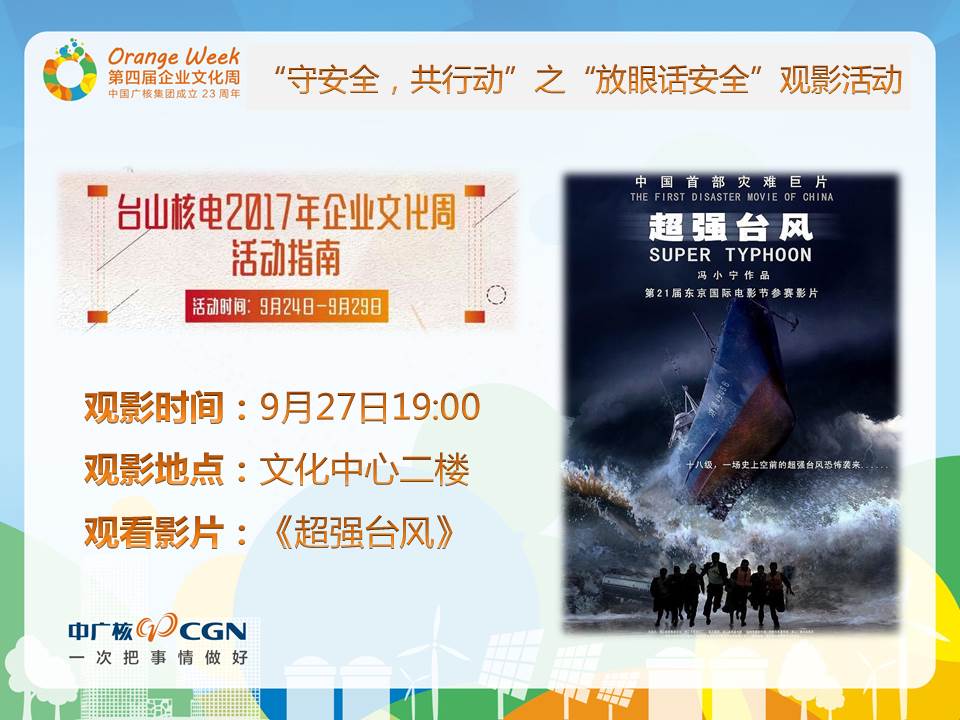 On the night of September 27th, a movie called Super Typhoon was played at Media & Sport Center.
"TNPJVC always take perfect typhoon prevention measures to safely survive the attack. I used to think we over defensed, but it is the movie makes me feel glad about TNPJVC attaching great importance to typhoon emergency. And I learnt a lot of typhoon knowledge and knew that fearlessness comes after ignorance. So we shall hold nature in awe and take firm steps against typhoon." shared by an employee.
Activity 4: "Good Health, Better Safety" Football Game — "Keep Safety, We Act"
The night of September 28th witnessed a Chinese-French football game in SLA.
"Keeping nuclear safety needs a strong body. I'm grateful to TNPJVC for providing many sports places. It riches our spare time, and builds up our bodies. Football field is my favorite place where I could find my partners and French friends. That's where my youth spent." shared by a TNSP "Football Star" via WeChat moment.
Activity 5: 2017 Nuclear Safety Culture Skills Competition — "Keep Safety, We Act"
On the night of September 29th, 2017 Nuclear Safety Culture Skills Competition was held at Room Shenzhen, 01 building. This competition verified knowledge and skills of critical posts including operations shift supervisor and nuclear safety engineer.
"It was the most impressive competition. All contestants answered in a skillful and outstanding way. Their surprisingly abundant knowledge earned my respect. I feel safe for we have such qualified nuclear safety guardians." shared by an audience.
How time flies! Orange Week came to an end in the blink of an eye. See you next year!
Happy birthday to CGN! Wish TNPJVC a better future!